What is online counselling
Online counselling allows you to talk about your concerns and feelings in a safe supportive and private space without having to see anyone face to face.
The counsellor is trained to listen without judging you, whatever your issue may be, and to offer you support and helpful suggestions to manage whatever you're facing at the moment.
Why people need counselling?
People choose to have counselling because they could be experiencing difficulties and distress in their lives or have other problems which they need to talk over in private. It may be easier to talk about personal, family, or relationship issues with a person who is independent of friends and family.
How Counselling can help
Counselling to helps you to cope with and overcome issues that are causing distress or making you feel uncomfortable.
It can provide a safe and regular space for you to talk and explore difficult feelings. The counsellor is there to support you and respect your views.
Counselling can help you to:
cope with a bereavement or relationship breakdown
cope with problems with college or school
deal with problems with your family of friends
explore issues such as sexual identity
difficult feelings such as anger, shame or sadness
deal with issues that are preventing you from achieving your ambitions
deal with feelings of depression or sadness, and have a more positive outlook on life
understand yourself and your problems better
feel more confident
develop a better understanding of other people's points of view
Counselling can often involve exploring difficult or distressing feelings and, as you begin to face them, with the help and support, you should gradually start to feel better.
A counsellor will not judge you or give you direct advice, but will help you explore alternatives so you can make your own choices.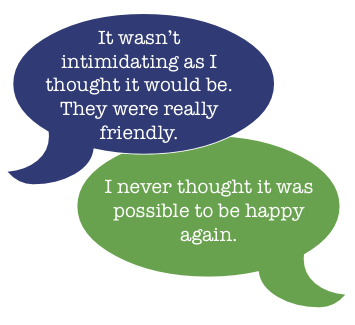 Why have online counselling
Here is some feedback that young people have mentioned after having counseling online:
"I didn't have to get a lift to the appointment"…….."I could email when I wanted"….…
"I felt I had more control over things"….… "I found it helped reading back the replies"… "I didn't have to explain where I was going"…..…"I didn't want anyone to know I was getting counselling"…… " I'm not sure if I would've opened up so much if I was sitting with someone there"….."I wanted to try some counselling"… " I just needed someone to talk to during the holidays when I couldn't see my counsellor".
Sometimes you can feel isolated but at other times, even where you have the most supportive family and friends, you can find it difficult to explain why you are feeling anxious or depressed. Many people find that it helps to just get things off your chest to someone, to let off steam or to offload a burden as it generally leaves them feeling lighter.
You don't have to be in crisis or on the verge of one, before choosing to have counselling either. Anything small or large is okay to talk about so you're welcome to check anything out that's troubling you. Generally speaking, if it bothers you then it bothers us and we're here to help 🙂